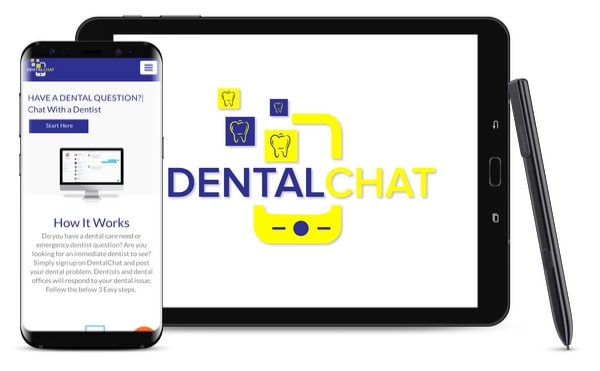 DentalChat Subscriptions & Features
List your practice on DentalChat and get more patient leads to your practice. Using DentalChat, your practice can connect with new local patients looking for crowns, veneers, gum work, root canal and that have other dental care needs. Our smart technology offers the best value in marketing and branding.
Click the link below to signup or to check out different subscriptions and their features.
https://dentalchat.com/pricing.
Subscriptions
DentalChat has 3 amazing subscription options
Starter – a perfect way to get started with DentalChat, your practice will be featured in the 'Dentists near you section' for local patients to connect to your practice, plus you can buy local leads.
Pro – a simple yet powerful AI virtual assistant (Smart Bot) to take care of your website visitors. All your patient's leads plus Smart Bot interacted inquiries of both new/existing organized in one centralized place, plus all features in Starter subscription.
Premium – a perfect way to boost your practice with new patient leads, plus all features in the Pro subscription.
Let's learn more about these features.
Smart Leads: Get local patient leads from dentalChat.com, leads flow automatically to your dashboard. You will receive notifications/alerts/emails in real-time.
Smart Bot: This will act as your virtual assistant, it will capture all the inquiries of your new and existing patients in an organized message board, where you can chat with patients in real-time.
You can easily install the chat tool on your website in just 5 minutes, to start communicating with your website site visitors. Our smart AI technology gathers information on your behalf and notifies you right away of your visitor's questions. This will really save your office staff's time and make them more productive.
Directory Listing: This is a listing for your dental practice, which will be viewed by thousands of local patients that can make appointments directly with your office.
Pay per lead: This feature gives us our member practices to select leads and pay per leads, individually. Both Starter and Pro subscribers pay a flat fee per lead. Premium subscribers automatically have access to these leads, in their location.
SMS Integration: This is a new chat SMS fusion technology, where patients can transition to SMS chat with dentists/dental offices via using this SMS Integration.
iOS & Android apps: Nowadays mobile phones are already part of our everyday life. Its importance is undeniably unending, this is because there is an ongoing tremendous transformation in that mobile phones are no longer the ordinary communication device it used to be. DentalChat offers an application that can be downloaded to your mobile device. So you can manage your account anytime anywhere.
Manage Staff: Invite and manage your staff access to DentalChat application, so your staff can interact with the leads and receive alerts, using their email. This feature provides security, accountability, and transparency across your account users.
Some additional cool features include:
Real-time: DentalChat provides a multi-use communication tool that connects you with patients when they're most likely to make a decision to join your practice: While they're online. Plus, we have licensed dentists in-house, that are available to provide reliable information in real-time, 24/7. When these patients are in your area, we direct them to your practice. If your team is available, they can chat with them and start to build a relationship
Interactive Analytics & Dashboard: You will experience stunning graphs that represent counts, percentages or proportional data by each category. These visual representations are to help you track your leads. You can use the interactive filters to slice the data and make meaningful insights.
• Leads Received: It shows the count of how leads with the criticality of emergency and non-emergency and leads that were attended vs un-attended.
• Symptoms Chart: This graph represents patients symptoms or dental problems %
• Lead Graph: This graph represents the number of patients leads received per day.
• Dentist Profile: This represents the number of dentists' profile visits.
Interactive Analytics & Dashboard
Finally, DentalChat is an innovative patient connection and communication platform for modern dentists, its a perfect platform for every dentist should be part of.
Cancel Anytime: DentalChat knows, once you start using today's best patient engagement tool, you won't turn back. That's why we offer a no-obligation month-to-month service. No contracts and no termination penalties. If you are not happy, you can choose to cancel at any time.
First 14-Days FREE: DentalChat offers 14 days FREE trial and a limited time no-registration fee to new subscribers.
Try DentalChat now, one new patient can be of $4500 average revenue.
https://dentalchat.com/pricing.
Want to see a demo or have any questions, feel free to email us sales@dentalchat.com. Get new dental patient leads and Add Dental ChatBot to Your Dental Website with live dental chat online. Use Live Dental Chat Bot on your dental website and make your website smart. We are listing the local dental practices that care the most to be one step ahead. The Best Local Dental Marketing Online for Dental Practices.
Back To Home