We get asked many local dental implant questions online at DentalChat. We are at DentalChat.com looking to help people get more dental implant information. Is a Dental Bone Graft Necessary for Dental Implants?
Millions of elderly adults are missing one or more functioning teeth. Now a days, many people are thinking of getting one or more dental implants. Some of these people, are told – that they need dental bone grafting procedure before getting dental implants. Dental bone grafting procedure may or may not be necessary. If you have a lot of dental bone loss, you may need dental bone grafting treatment.
How can I know if need dental bone grafting?
Dental bone grafting procedure and treatment is being recommended for many people needing dental implant treatment. Common dental bone grafting question we get asked is, how do I know if I need a dental bone graft. Looking at the dental imaging x-rays. If have severe dental bone loss and have gum disease. In these cases, dental bone graft and perio treatment may be a good idea.
Types of dental bone graft material – allograft dental bone grafting blog:
One common type of dental bone grafting material is called allograft bone material – which basically means bone used from another person (usually cadaver) and placed into another host. The good allograft bone is treated and disinfected, to be safe to be placed into the host. You can ask your dentist question about the type of material they are using.
If have dental implant inquiries and want more dental implant information, you can get this at dentalchat.com. Local Dental Implant Information, Dental Implant Questions and Dentist Implant Answers at DentalChat.
Get Dental Answers and Local Dental Teledentist Consulting Online at DentalChat.com.
We are networking with local online dental marketing companies. We at Dental Chat are networking with local dental blogs.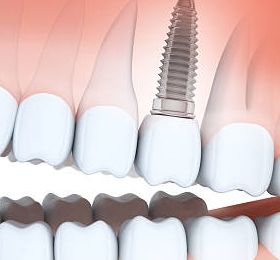 Not so long ago, you had very few options if you lost a tooth. Today, dental implants often give you the best opportunity to return to the normal chewing and an intact smile after tooth loss. As you consider the possibilities, a few questions usually come to mind. Of course, you realize the long-term benefits of the procedure, especially knowing that you're going with an option that will make your life better every day for years. But you might be wondering about the near future of the process. Many patients ask the question, "What is the dental implant procedure like?"
Dental Implant Information and Dental Implants Blog: What is Dental Implants and Your Dental Implant Procedure Info online blog. Dental implants have become one of the best ways to fix a missing tooth or more in the mouth. In the last 20 years, more and more people are placing dental implants into the mouth. The dental implant is a screw-like product that is kind of screwed into the jaw bone. There is a lot of dental planning and expertise needed to have dental implants placed into the mouth.
Dental Planning Always Pays Off
Your comfort should be the most important part of every visit. We take every measure to make that central to your dental implant experience. If we need to include specialists in our plan, work with a provider who shares the same philosophy as the specialists they work with. If you prefer sedation, seek out an office that offers it. To ensure success, it's vital that a personalized road map is created for your return to full dental function. The best practices now use digital imaging technology and other records to guide the entire process. Good planning pays dividends in life…and dentistry. Also, make sure to get a good Local Dentist Consult about what the dental treatment plan will include.
You'll likely be surprised at the experience during the placement of a dental implant. The modern dental anesthetic numbs the area profoundly so that you don't feel anything when dental implants are placed into the jaw, and with experienced dentists, hands start placing the implant. A mini-guide hole creates a path for a small implant cylinder to be carefully placed and slowly threaded into the site. A smooth cover is placed over the implant that remains in place during the healing period.
There are many temporization options that are possible so you can smile confidently from day one. In some cases, a temporary crown may be created and delivered that day. Since every patient's procedure is different, your dentist will help you decide what will work best during the healing period. Within a short time, the sterile implant surface begins integrating into the bone. The healing period usually lasts from 3-6 months as the implant bonds within your jaw bone. Most patients experience very little discomfort after implant surgery, especially when compared to a tooth removal procedure.
A Perfect Finish
After 3-4 months of healing, a crown will be custom-made and attached to the implant with a small screw or dental cement. Your dentist chooses from a variety of components that allow an optimal result when completing the final stage. Customizing the process of your tooth replacement from planning to the final placement of your new tooth makes all the difference in the outcome. Choose a dentist with experience and advanced education in the exciting area of dental implant technology. That choice will ensure you experience the best of modern dentistry! Ask Dentist an Dentist Question or Post Your Dental Question with us at DentalChat.com. Ask Dentists Dental Implant Questions and more.
If you don't have a dentist or you're dealing with more dental questions about what to expect after tooth extraction, you're in the right place. DentalChat provides the best platform to connect with licensed U.S.-based dentists. You can ask questions online and even connect with a nearby office that can help you with your needs. Feel free to jump on and see how we can help now or in the future!