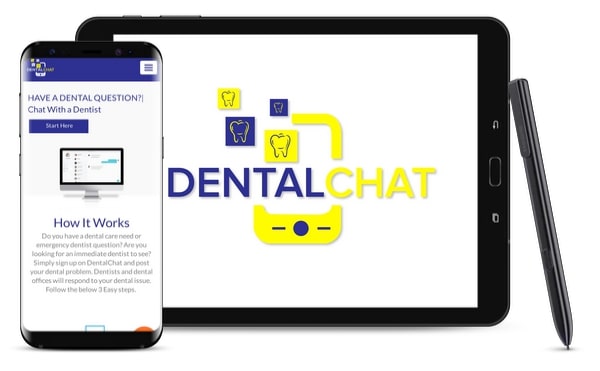 Online TeleDentistry – Chatting Online with Dentists using Tele Dentistry
Online TeleDentistry Discussion on Dental Chat:
Chatting Online with Dentists using Tele Dentistry:
The world of health care and technology are coming together.  Technology in the last 30 years, has rapidly evolved to touch people in many ways, from online shopping and e-commerce, to now more and more in health care.  We are @ DENTAL CHAT looking to help people all over with their dental issues.  TeleDentistry is an amazing field – and is evolving just like in medicine and health care.  DentalChat was created by a dentist looking at ways of helping people in the dental field – a work in progress for over a decade now.  It is exciting to see how technology in the health care space, has caught up to the vision.
In this article, we will discuss Online TeleDentistry …  that is, Chatting Online with Dentists using Tele Dentistry.  We at DentalChat have been a leader in the dental space and teledentistry for over a decade.  Teledentistry is the use of information technology by people to communicate with dentists.  It is a part of Telemedicine and the overall trend of using technology for people to communicate with health care professionals.  Interesting enough, by some reports – a form of teledentistry was introduced by the US dept of defense in the 1990's.  TeleDentists are dentists that work in the teledentistry industry.  There are many Teledentistry Jobs for dental professionals – to be involved in. Dentist Chat online with people that are seeking dental help – that is dental patients seeking dental aid. Dentists Chat with people from all over and not just in their area.  Teledentist helping people and TeleDentists making dental care information more available.  In the future, some dentists may be called TELEDENTIST OR TELEDENTISTS OCCUPATION.
We are looking to network with online dental care professionals – who want to know more about this field – and would like to be part of the future in dental technology.  Dental Technology is and will continue to be rapidly evolving.  We are looking to be the leaders in this space & welcome partnering with other health care & technology companies.
Free TeleDentistry – TeleDental Discussion – Tele Dental Health Care Blog:
As we discussed, TeleMedicine has been rapidly growing the last several years.  DentalChat is providing Free TeleDentistry Chatting online with us.  We have actual dentists who are dental experts – providing Tele-Dentistry Chat online.  We also have Tele Dental Health Care Blog done by dentists and health care professionals.  TeleDental Blogging or answering people's dental posts, we are always looking to innovate.
DentalChat.com is connecting patients and dentists, and a whole lot more.  Dental Chat Online with people that are seeking more dental information for their dental pain, & other dental problems. DentalChat was created by a dentist, looking to help people with their dental care problems.  Dentist Chats Online using TeleDentist Tech.
We are always looking for the best dental contributors to add more content on here.  Local Dental Chat and Online Dentist Information discussion with us >>  We will be discussing a variety of dental topics on DentalChat.  We will focus more on dental implant topics in coming discussion and Dental Blogs.
Back To Home