We are looking at discussing dental topics that dental patients and denttal professionals are currently discussing. In the Local Dental Care COVID Blog, we will discussing how COVID-19 has changed dentistry.
DENTISTRY DURING THE COVID-19 PANDEMIC & ONLINE TELEDENTAL CONSULTING FOR DENTISTS HAS BECOME MUCH MORE COMMON THAN EVER BEFORE.
For anybody who has visited a local dental office in the last couple months, they have noticed that dentists and dental office staff have changed many things in the dental office.
COVID-19 & TELEDENTAL CONSULTING FOR DENTISTS – HOW HAS DENTAL CARE CHANGED?
Many dental offices are using the dental care COVID question list for patients to answer BEFORE they enter the dental office. These COVID questions include have you recently had fever, have you TESTED POSITIVE FOR COVID, and questions like this. Also, dental offices are using more protective gear such as more face shields and masks, air quality control and other things to keep their dental patients and dental staff of the dental office safe.
Dental Chat can answer your dental question – simply post your dentist question and we are providing Free Dental Consult Chat through all of September 2020 to provide COVID dental information help.
What is Telemedicine and Teledentistry? More people than ever are reluctant going out to dental offices, etc. Now, people can do video teledentistry consulting online. People can ask for instance cosmetic dentistry questions and other dental care questions from the comfort of their residence. Of course, first need to make sure your dental office offers teledentistry. Want more teledental information? Here is a Local Teledentist Info Blog at DentalChat, to get more information.
We are at DentalChat.com looking to network with dental professionals and top level dental companies. Local dental practices can also add local best dental chatbot to their dental website.
During these times, many people are having challenges with getting the dental care they need – just not in the US …. but also in many other countries that have closed off part of their economy. During April and May 2020, many of the larger states had many local businesses closed. Dentists and dental offices were closed for routine dental cleaning procedures or other common dental care needs. Local dentists could see patients for emergency dental care though. In this local emergency dentistry blog, we will be discussing COVID and dental care.
Understanding Dentistry during COVID – Coronavirus Dental Care Blog:
Many people have had to bypass their regular dental prophy and dental exam check-ups during COVID-19 period – as many dentists and dental offices in states such as California and Washington state – had closed their dental practices unless for emergency dental care. That is, only dentists could see emergency dental patients.
Many people even with small cavities or small holes in their teeth, ended up just waiting it out – which is not a good thing. As many dentists will tell you, do not have a small hole or cavity increase in size – by not treating it. Doing a small composite filling is much easier and less costly than doing root canal treatment.
Teledentistry Service and Online Teledentist Consulting: Some people are doing online virtual dental care consulting using teledentistry consulting. Now local dentists are using dental telemedicine technology, just as physicians are.
Patients now need to go back and get their regular dental care needs – of course, with due precaution. Many dental offices are using great local dental care precautions – and following the various CDC guidelines. These dental offices are looking to protect their patients and their own staff.
We at DentalChat.com are networking with local dentists and dental professionals. We welcome local dentists to share their dental stories with us, as well as for dental patients to share their local dental stories with us.
Get Dentistry Answers – We Answer your dentist questions online:
Do you have a dental question or need emergency dentistry help? Get local dental answers and ask dentist questions online at Dentalchat.com. Find a Local Dentist and Get Dentistry Answers. You can also download our dentalchat app and find local dentists with us.
The coronavirus looks to be staying around for some time longer. Many are hoping we find some kind of vaccine to help people fight off the COVID pandemic. We will be doing more COVID DENTAL CARE BLOGS as we keep an eye on the latest developments – with COVID & Dentistry.
In today's world, we live a significant part of our lives online. In fact, research suggests that many people spend more time online than they do sleeping. While that not add up to the healthiest balance, that's reality.
As a global society, we rely on digital networks to provide guidance for every part of our lives. Whether we're planning a trip overseas or researching the best coffee maker, we usually head online first. More than ever, consumers jump on their laptops and phones to research advice for health-related matters. Sometimes, it's just reassurance about pain or a spot on the skin. But we often go deeper. For example, more people than ever want to know how to find a healthcare provider online, including a dentist.
The ability to connect with a dentist to get answers to questions is an evolution in the online realm. While we've been able to find articles and blogs about specific healthcare questions, finding a real, licensed dentist to answer questions provides an invaluable resource to anxious patients.
Online Reviews May Help
Reviews from real users helped build sites like Amazon and Tripadvisor to iconic resources. Reviews definitely provide insight into real-user experiences, especially on places and products. They also help us understand how patients rate their doctors and dentists, and that's a great way to get someone else's take on their provider. Not a bad place to start, including with us at DentalChat.com.
However, dentistry involves a real, living relationship. And what someone else experiences forms just part of the picture. When you get the opportunity to actually connect with a dentist online, ask questions, and get answers, it helps you assess your comfort level with a new provider. The one-on-one connection starts before you ever walk in the door of an office, and it helps a dentist start to hear your concerns early in the process.
Do you have a Dental Question? Are you looking for Best Dentists near you? Using DentalChat.com as a tool to Find Best Local Dentists and Ask Emergency Dental Questions to Dentists online with us. Ask a Dentist a Dentistry Question online with us. Dental ChatBot Messaging Solution is a great tool for people and dentists to connect.
Today's most innovative dentists understand the value of connecting with people when they are at – which is Online. Some dental offices answer emails and Facebook messages on a regular basis, and that helps. But the most forward-thinking dentists utilize chat technology, and lower barriers to communication using these widely-accepted platforms. If you are a dentist or dental office manager, you should look into adding Dental ChatBot to your dental website from DentalChat.com – to make your website smart.
While a few technology companies have tried to adapt chat technology to dental practices, few specialize in this service. Dentists understand the unique concerns and questions of patients, and they're prepared to work with them. Only one company focuses exclusively on this need: DentalChat. Finding a Local Dentist or Finding Emergency Dentists online can be done with us.
A Stress-Free Way to Find a Dentist Online
DentalChat was founded by dentists for dentists and their patients. Their team includes in-house, licensed dentists that answer questions and help connect patients looking for dental care with dentists in local regions. Plus, DentalChat provides practices with smart chatbots so patients can communicate directly with their favorite office once they've connected with a practice they like. Here's how it works:
Let's say you have a broken molar and it's sensitive. You're wondering how to find a dentist online and you find dentalchat.com.
At dentalchat.com, you enter your question into the search line. Within minutes, a licensed dentist is chatting with you to help understand your problem and answer your questions.
If you're also looking for a dentist to help with your problem, our team dentist refers you to a dentist in your area that's prepared to help you with your problem.
To make it easier, you'll likely find DentalChat's smart chatbot on the dentist's site that's been recommended to you. Just like that, the process has been streamlined and you've found a dentist to help you with your dental problem or goal.
Welcome To The Future
Finding a dentist you can trust isn't always an easy task. But these days, it often starts with finding a dentist online. Once you know how to find a dentist online using the best connection tools available, you're well on your way to realizing optimal dental health. Who knows, you might decide to enjoy the benefits of a dental implant, Invisalign, teeth whitening, or other exciting possibilities offered by progressive dentists!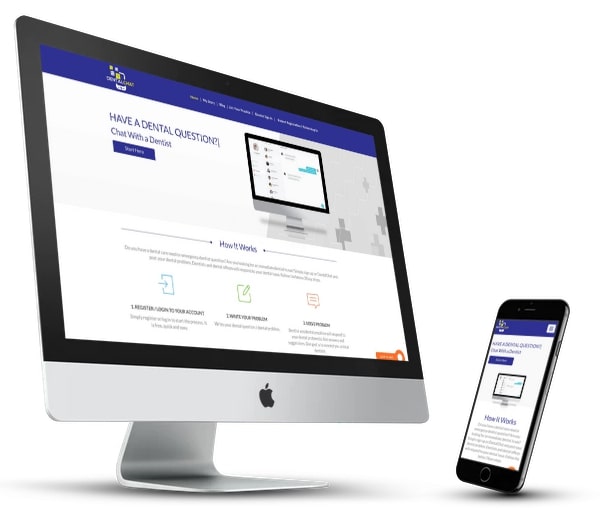 Many people wonder what we do @ Dental Chat? What is the story or reason why DentalChat was created? The reason behind it is quite simple. DentalChat was created to help people with their dental care questions and to make their online dental search experience better. Right now, while it lasts – enjoy our FREE DENTAL CONSULT ONLINE and ASK US EMERGENCY DENTAL QUESTIONS ONLINE – our goal is helping people with their dental care.
DentalChat was created or founded by a dentist over a decade ago – like all innovations, nothing comes easy. DentalChat has a team of dentists, online professionals, great writer's and a team of technology professionals to make it what it is today. We have many great local emergency dentist blogs online – can read an emergency dentist blog and emergency dental care blogging with this link at Dental Chat.
Posting emergency dentist questions online about tooth pain or toothache question asking local dentists with us at Dental Chat. What kind of toothache questions online we get asked at DentalChat?
Where can you go on DentalChat.com to post your local dentist question?
We welcome your local dental question – ask us about cosmetic dentistry questions online or cosmetic dental treatment options online with us. Posting emergency dentist questions online and emergency dental questions online @ Dental Chat.
What kind of Emergency Dental Questions do we get at DentalChat? Two of the most common Emergency Dental Questions online we get asked is about Wisdom Tooth Problems and Bleeding Gum Problems / Gum Surgery Questions.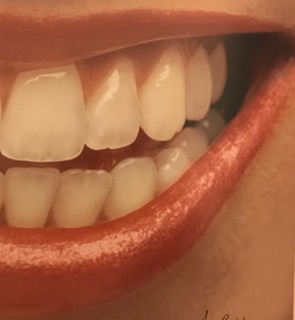 Many people are seeking cosmetic dental care to make their teeth look whiter and to have a nicer smile line. In this Dental Blog – We will be doing Cosmetic Dentistry Blogging about Dental Veneers & Dental Crown Chatting Online.
What is a Dental Crown? A Dental Crown is sometimes commonly referred to as a cap. A dental crown goes or is placed onto the tooth. The Dental Crown treatment is a dental procedure that looks to first trim the tooth (prep the tooth), usually followed by a dental impression of the mouth. This is followed by the dental impression being sent usually to a dental lab >> then a dental crown is placed onto the prepared tooth and help in with usually some kind of dental cement. The reason we are saying the dental crown impression is usually sent to a dental lab is because some dental offices fabricate the dental crown right there in their dental office with various types of dental machines.
What is a Dental Veneer or what are Dental Veneers?
Dental veneers are usually a thin porcelain type of shell that is placed usually on the facial part of the tooth. The tooth is usually prepared and then a dental impression is taken – then, the tooth has a dental veneer or dental veneers are placed on the front part of the tooth. Usually, dental veneers are done multiple teeth – at one time. Dental veneers are great for improving the shape and color of usually front teeth. If you have discolored front teeth or multiple larger incisal chips on the tooth or on front teeth, then dental veneers can possibly be a good choice. Have to be careful with dental veneers, since they at times do come off or fall off. This does not happen usually frequently, but it does happen to people from time to time.
There are new types of dental technology to do dental veneers, dental crowns or dental implants crowns- sometimes on the same day at the dental office. Most dental offices do send these cases out – and usually, it will take more than one session over a couple of days to do.
We get many Cosmetic Dentistry Questions Online at DentalChat. Simply Post Your Dentistry Question at DentalChat, and let us try to help you with some useful dental suggestions. Free Dental Consult online for us for now – so, great opportunity to use our dental communication platform.
Cosmetic Dentistry Blog about local cosmetic dental procedures such as dental white tooth fillings (composite fillings) and Dental Crowns Blogging (tooth caps).
Do you have a Dental Pain Question or need to Find Local Dentists – simply go to Dental Chat or want to know more about a broken tooth filling restoration? Here is a Cosmetic Dental Chat article on DentalChat.com – the link is
https://dentalchat.com/broken-filling-blog-and-composite-fillings-chat
Ask us a tooth pain question or dental question about composite fillings at DentalChat. We are looking to help people with their dental questions online. We are at DentalChat networking with local dentists and dental companies – a great time to network and market online with us. DentalChat.com was created by a dentist looking to help people with there dental care. We have a great team of people who are looking to make more people smile about their dental care issues.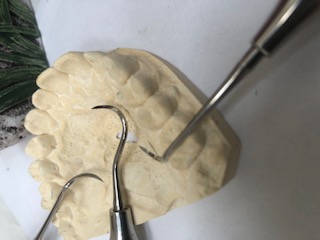 We are at Dental Chat helping people get their dental questions answered online. What is the type of Dental Questions people ask online?
There are various types of dental problems people have – that they want to have dental answers to or want to get better information.
These dental questions would include many things – here are some dental subjects we get asked. It would be about dental topics such as tooth pain, cosmetic dental care and orthodontic questions.
Orthodontics Questions Chat:
Many people experience various braces and orthodontics treatment problems – this can include: My brace bracket fell off, what should I do? Or another common orthodontist question gets asked is, my gums are very inflamed after having braces for 6 months, etc. Other dental questions get asked about braces is – how long should orthodontics treatment take? If have a local orthodontist question or want more information about orthodontics, can use this orthodontics dental question chat blog link.
If there are dental questions want to ask or Ask a Dentist Question? If want to, people can post a dental question – can click this Dental Chat link https://dentalchat.com/patient/create-post
We welcome our users feedback and suggestions. Dental Chat is founded to help people with their dental care.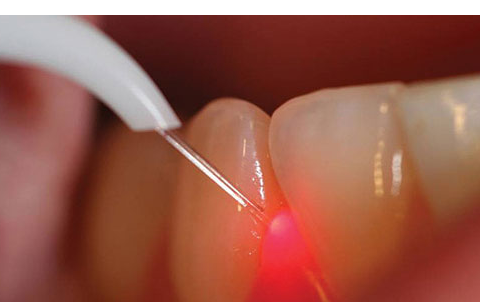 Dental Laser, Periodontal Gum Laser Therapy to treat Gum Disease:
We are at DentalChat looking to better inform our viewers and site users more dental information.  We will be Dental Laser Chat Online & Dentist Laser Chatting about benefits in this article.  This Dental Blog will discuss Dental Laser Treatment.  Dental Lasers are used by dentists in many different ways – with Periodontal Gum Laser Therapy for treatment of gum inflammation being one of them.  Basically, the dental laser is used to remove inflamed gum tissue from around the tooth root and coronal portion / around the teeth where the inflammation is.
In the 1990s, medical CO2 and Nd:YAG lasers units with the first pulsed Nd:YAG laser designed specifically for the dental care market place was released – in the last decade, newer forms of dental lasers have come into the dental market place.  Dental Laser companies are pushing great new technology innovation the last decade.
Dentist Laser Chat – One of the big benefits using Dental Laser Surgery is not having to use so much anesthesia and usually less pain post-op. for Dentist One of the main advantages of using dental laser therapy for treating some forms of gum disease is that it requires less anesthesia and generally, if less invasive than having to go in and do a incision to access the inflammation.  Generally, because of this – the recovery time can be less than with regular gum surgery.  Laser gum surgery should only be performed with dentists that have the right training for it – as each device has various wavelengths and user criteria to follow.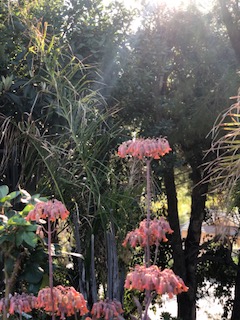 Gum Disease Chat and more – here with us @ DentalChat.com.  Gum disease comes in various degrees, with peridontitus being one of the worst type or severe form of gum disease. We are looking for more dental content on here, to help our users gain more dental information.
DentalChat.com was founded by a dentist and an IT health care technology  professional – looking to bring something fresh and innovate into the dental space.  Great time to market online with us.
Local Emergency Dental Chatting Online & Local Emergency Dentists Chat online with us – We are looking to discuss various dental subjects involving dental care.  For this blog, want to discuss crown lengthening procedure. 
Why is a Crown Lengthening procedure done –  for one, there  caries, tooth malformation,  attrition, excessive tooth reduction,  erosion, genetic variations and many times because of tooth fracture below the gum line.  So, if a dentist wants to place a crown, and a lot of the tooth is broken or not visible easily because it is broken around the gum line.  The dentist will remove part of the gum to show more of the tooth, so a good crown impression can be done – so, the crown will be placed on the tooth easily and with a good fit.
Crown Lengthening is done by dentists when more area is needed for placement of a dental crown.  Now a days, with advance dental technology – lasers are sometimes used to do this procedure as well.
Online Dental Care Chatting, Online Dentists Chat communication features, Local Dentist Chat Online Marketing, Online Dental Chat business listing  and Local Dental Chat Networking Online with us at DentalChat. We are looking to network with local dental blogs and dental information companies.