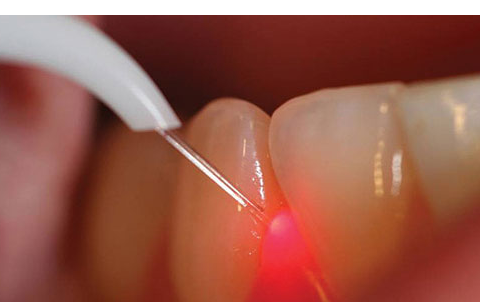 Dental Laser, Periodontal Gum Laser Therapy to treat Gum Disease
Dental Laser, Periodontal Gum Laser Therapy to treat Gum Disease:
We are at DentalChat looking to better inform our viewers and site users more dental information.  We will be Dental Laser Chat Online & Dentist Laser Chatting about benefits in this article.  This Dental Blog will discuss Dental Laser Treatment.  Dental Lasers are used by dentists in many different ways – with Periodontal Gum Laser Therapy for treatment of gum inflammation being one of them.  Basically, the dental laser is used to remove inflamed gum tissue from around the tooth root and coronal portion / around the teeth where the inflammation is.
In the 1990s, medical CO2 and Nd:YAG lasers units with the first pulsed Nd:YAG laser designed specifically for the dental care market place was released – in the last decade, newer forms of dental lasers have come into the dental market place.  Dental Laser companies are pushing great new technology innovation the last decade.
Dentist Laser Chat – One of the big benefits using Dental Laser Surgery is not having to use so much anesthesia and usually less pain post-op. for Dentist One of the main advantages of using dental laser therapy for treating some forms of gum disease is that it requires less anesthesia and generally, if less invasive than having to go in and do a incision to access the inflammation.  Generally, because of this – the recovery time can be less than with regular gum surgery.  Laser gum surgery should only be performed with dentists that have the right training for it – as each device has various wavelengths and user criteria to follow.
Back To Home